Is it better to wear a lapel polo shirt or a round neck T-shirt in summer?
The answer is that all are okay, each with its own characteristics can be according to your own hobbies.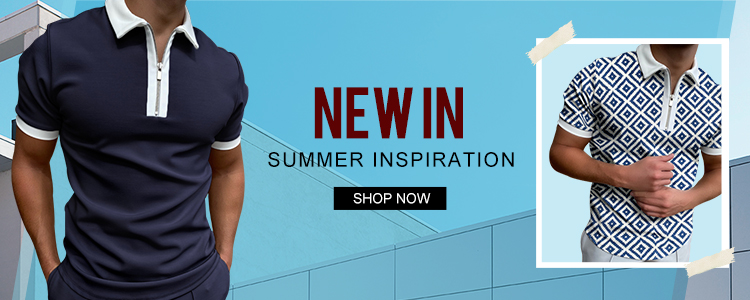 The business casual polos give people a casual and clean feeling; T-shirts are natural, comfortable, chic, and dignified.
Polo shirts were originally called tennis shirts. It was originally a collared sweatshirt launched by the seven-time Grand Slam winner Ren Lacoste under his brand LACOSTE. When playing tennis, the upper body of the racket will be constantly twisted, so the polo shirt design is based on the premise that it does not need to be stuck in the pants. The back is long, the front is short, and there is a small open hem on the side. This hem design can prevent the wearer from wrinkling when the wearer is sitting down.
T-shirts are one of people's favorite clothing in spring and summer, especially in the scorching sun and the heat of summer. T-shirts gradually replace the old men's vests or vests with their natural, comfortable, chic, and solemn advantages. The pattern of an undershirt plus a short-sleeved shirt or Hong Kong shirt appears on social occasions and becomes an item of seasonal clothing that people are willing to wear. It has become a fashionable dress that men, women, and children worldwide love to wear. It is said that the annual sales volume in the world has reached billions, and jeans constitute the most popular and most worn clothing in the world.
Verywear is the global online store that delivers the latest fashion apparel for you! We have T-shirts, tops, bottoms, dresses for men and women. Thousands of products in different styles are waiting for you! All at favorable prices, add to cart now!